Judeland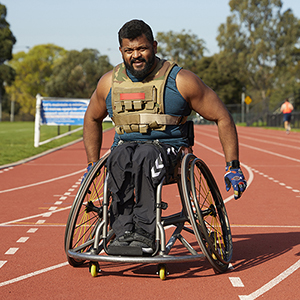 Judeland (36) was born in Sri Lanka and migrated to Australia in 1998. Spinal injuries from a bomb blast in the Sri Lankan civil war caused his paraplegia at the age of 11.
After moving to Australia, Judeland completed his studies in banking and finance and has been working at the Australian Taxation Office since 2006.
He has a long-standing love of sport and initially had fears about how to maintain his interest, and his health, while in a wheelchair.
"I slowly began going to the gym and training myself, finding out what I could do while being in a chair. That was the start of my new life and finding the new me," says Judeland.
From there, Judeland got into wheelchair sports, enjoying handball, basketball and Australian rules football.
This led to him being recruited to the Victorian Wheelchair Football League where he currently plays for St Kilda. He also pursues weightlifting and cross training. In future he wants to compete in body building and try his hand at Olympic shot-put.
In 2018, a serious traffic accident left him with several broken bones and in need of a range of support services to help with his recovery. These included personal care and modifications to his home and car to maintain his independent lifestyle.
"Some things that used to be easy are still difficult, but I'm managing and still trying to get the best out of my body and working towards reaching my potential while recovering.
"Everyone has different challenges in everyday life. I always say that my disability may be in my body, but I don't have to let it take over my mind."
Judeland sees the Disability Gateway as being useful for both people with disability and the people who support them.
"The Disability Gateway is not just for people with disability. Carers and support workers need to take care of themselves too. That's where the Leisure and Health and Wellbeing areas of life on the Disability Gateway website can help someone find out what services are out there, whether it's respite or their physical and mental health." 
In the past Judeland relied on occupational therapists as a source of information about what he was entitled to. While health professionals will always be his main source of advice, he is keen to build his own knowledge through research.
"I'm pretty independent and if I need something – a service or a new piece of equipment to make life easier – I like to go online and do the research myself. The Disability Gateway is great because I can start my search for a huge range of things all from one website.
"For example, if I want to visit a park or go on holiday, I need to know what accessibility features are there, but the park website may not have that information. Or I might want to find out how to access a wheelchair for playing sport on sand, or if a hotel has wheelchair accessible bathrooms. I can go to the Disability Gateway website to check this, and because it's so broad, I can also find information about other areas like employment or equipment services – it's all there."
Judeland also sees the Disability Gateway as a service that could help the broader community to better understand the needs of people with disability.
"I would recommend the Disability Gateway service to anyone – whether they live with disability, support someone with disability and even just the broader community, because it can help people to understand and relate to people with disability.
"I think the Disability Gateway will make life easier for a lot of people."
You can also look at...