Janelle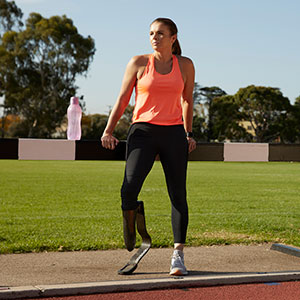 Born without a fibula, Janelle had her foot amputated at the age of six.
Growing up she didn't know anyone else living with a disability, but that didn't stop her leading an active lifestyle and playing competitive tennis against other children.
"There weren't as many support services and networks for people living with disability and their families back in the mid-1980s," says Janelle.
"With four daughters – me the youngest living with this congenital disorder – they were up against it and coped as best they could.
"I had a lot of surgeries and setbacks and my parents constantly adapted and made modifications to help me with everyday living."
Now a mother to two boys aged 10 and 12, Janelle says that a resource like the Disability Gateway would have been a great support to her family.
"If this (the Disability Gateway) was available in the 80s, it would have been invaluable, not just for my parents, but also my siblings.
"Siblings are often overlooked when considering disability support for a family; having a family member living with a disability can have a big impact on them. Siblings need to be supported and be able to find support."
Working in childhood education, Janelle often sees children and families like hers, and believes she can refer parents of children living with a disability to the Disability Gateway for help.
"I still see children with congenital disorders like mine, and families with a child living with a disability. The Disability Gateway is a helpful resource I can share with families to help them find the support and services they need."
Although Janelle currently manages her disability independently through support services such as her prosthetic technician and physiotherapist, she believes she may look to the Disability Gateway for future support.
"I'm currently working, mobile, live independently and have excellent professional support services – but that may not always be the case as I get older," says Janelle.
"In the future I may be less able; I may need to look for work or seek assistance with mobility and transport – this is when I will be able to use the Disability Gateway to find help.
"For now, I've embraced and am proud of my disability; resources like the Disability Gateway have contributed to this and are so important in supporting and shifting perceptions of people like me."
You can also look at...