Case study – John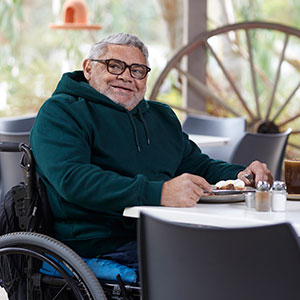 Living with spina bifida paraplegia from birth, John underwent two years of surgery early in life.
This, along with care at the Royal Children's Hospital, and aids and equipment, helped him grow up leading an active lifestyle.
John has always been interested in exercise and took the opportunity to build his upper body strength during his youth; something he believes has helped him remain active in later years.
Now that he needs more support with everyday living as he gets older, John is able to use the Disability Gateway to search for information and services.
"The Disability Gateway makes searching for the information I need easy and convenient – it's not like other online searches I've done that would go on in endless circles," says John.
"With other searches, I might find some basic disability-related information, but the Disability Gateway is presented from the disability perspective; it goes beyond the surface-level and really gets to the core of the services available, and the information that people with a disability and their support networks need."
He also believes that the Disability Gateway can help people across multiple parts of their life – regardless of the information and services they are looking for.
"Having all this information and advice about how to get support can be a game-changer.
"The Disability Gateway isn't just for the basics of getting support with everyday living – it gives people different areas of life they can explore and branch out with like transport, housing, and managing money."
An avid traveller, John is also looking forward to using the Disability Gateway to plan his next trip to the Northern Territory.
"I'd love to go to the Northern Territory, it looks amazing," says John.
"For me, it will be easy to research my trip through the Disability Gateway; other searches usually give me some information about the popular places at a location I want to visit, but mightn't have important information I need to consider as a person with a disability.
"The Disability Gateway goes into lots of detail with disability-specific travel information about things like the accessibility of attractions, restaurants and accommodation.