Case study - Lauren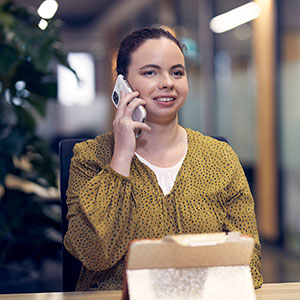 Lauren attends a day activity centre four days a week and does three different courses at TAFE Gippsland in Leongatha, where she's learning about how to find a job, numeracy and literacy, and hospitality and cooking.
Lauren lives with her parents but wants to be independent in as many areas of life as possible. She plans to move into her own home and wants to eventually serve customers in a bustling café doing the work she enjoys most.
She uses disability support services to access community activities and considers the Disability Gateway website a useful resource for people with a range of different abilities.
"The Disability Gateway website helps connect people with disabilities to many different services they might need. It's for people from all over Australia and it can give you information in different languages," Lauren says.
"I think parents and guardians would find this website useful, and I can imagine a doctor or other health professional might use it to find services for a patient."
I would love to use the Disability Gateway again because it gives me lots of support and how to get out of my house a bit more.