Case study – Stuart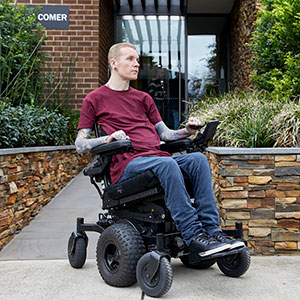 Stuart has lived in Bendigo for most of his life. At 18 he was in an accident that left him paraplegic, and after years of rehabilitation he decided to return to school and pursue a social work qualification.
After completing a Bachelor of Human Services and a Masters in Social Work, Stuart now works helping people with disability to access the services they need.
"My role is similar to a case manager, helping people to access different supports and manage their funds. That might be advice, equipment, access to support workers or allied health professionals – so the Disability Gateway is of particular interest to me," says Stuart.
"In my work I see a huge need to connect people with the right services and I think the Disability Gateway will certainly help with that."
Stuart uses support workers to assist with everyday tasks and has accessed services in the past to modify his home. He reflects that when it comes to accessing services, funding is only half the journey.
"When I received funding under the NDIS, I wasn't really sure what to do with it or how to go about getting services that matched my goals. Travel is a good example. It's a huge part of people's lives and something a lot of people look forward to each year. You need to know where you can go, how to get insurance, and how to navigate that as a person with disability," says Stuart.
"I've had experiences in the past while travelling where companies advertise as being accessible, but the reality can fall short. Having the Disability Gateway as a source of fact-based information with links to organisations you can trust is important."
Reflecting on his time in university and TAFE, and his subsequent search for a job, Stuart says the Disability Gateway would have been very helpful at the time.
"Having a tool like the Disability Gateway would have made it much easier for me to find out what assistance was available, and to have a one-stop-shop rather than using different online search engines, where results can be hit and miss.
"Also, getting a job was really tricky and I wasn't sure of my rights – what I could ask for and what could reasonably be denied. The Disability Gateway has links to government programs to help you find work and advise you on requesting modifications to your workplace. Having that information and awareness makes you better prepared for job interviews."
Stuart plans to recommend the Disability Gateway website to his clients in future as a good starting point for disability-related information across a number of life areas.
"I found the Disability Gateway website clear and easy to use. I think having the 10 areas of life gives people a clear starting point for their search, even if they're not sure what service they're looking for.
"I would certainly recommend it as part of my work. I think the Disability Gateway website would help people with disability, their families and carers – but also service providers who want to be able to help clients in more areas or connect them to other services."
For me personally I'll be using the Disability Gateway to access and make travel plans. I found there was a lot of great information on there regarding insurance, places you can stay, where to get equipment and how to get around in the area that you're travelling to.
One thing I found fantastic about the Disability Gateway is that it had disability-related information on topics that aren't disability-specific, such as finance, legal and where to get health care.