Dominique and Nick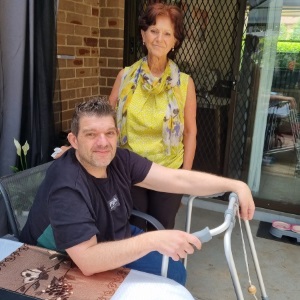 Dominique George is a social welfare worker who provides support services and programs through the Greek Orthodox Community Welfare Centre.
Dominique first met her client Nick upon referral by his mother five weeks after an accident that saw him badly injured by falling from a roof.
A house painter by trade, Nick suffered significant injuries to his face and hip, which required surgery and hospitalisation for six weeks.
Nick's challenges were compounded by financial hardship, no fixed housing and mental health issues including depression.
"Nick's case was complicated," Dominique says.
"After hospital, Nick went into crisis accommodation but was looking to move into a more permanent setting.
"He required specialist transport to view potential accommodation and to keep medical appointments, as he was using a wheelchair.
"Nick's financial circumstances meant he didn't have the funds to pay for taxis to get to his various commitments and that's when his mother reached out."
Dominique heard about the Disability Gateway through the NDIS.
 "Through the Disability Gateway, I learnt about the Community Transport Re-Enablement Program, which provides specialist transport for eligible people who are transport-compromised," Dominque says.
She says disability transport provider Travel Trainer provided a seamless outcome for Nick providing affordable transport to all his medical appointments while also allowing him to view potential accommodation.
Dominque has been impressed with the Disability Gateway's great customer service, especially in helping to stop people falling through the cracks.
"I was blown away by the outcome for Nick," Dominique says.
"When a person continually comes up against barriers without outcomes, they can become deflated.
"With the Disability Gateway providing re-enablement transport for Nick, it has been so good for his mental health and social wellbeing."
"It is such a big thing to enable a client so positively.
"It is essential that we all know about the Disability Gateway, and I can't recommend it enough."
Arabic
Chinese Simplified
Chinese Traditional
Greek
Italian
Vietnamese
You can also look at...